Meetings:
We have updated our meeting schedule. Meetings will now be held on the 2nd Thursday, once a month during the season.
2022 NHSA Super Raffle
We are selling NHSA Super Raffle tickets to help raise money for the club. The drawing with separate 14 prizes will be on February 6th, 2022. Tickets are $20 per ticket. If you would like to purchase ticket(s) please email ride@cnhsc.org or on facebook messenger. We will send you a form to fill out and send back. After we receive, we will send the tickets out to you.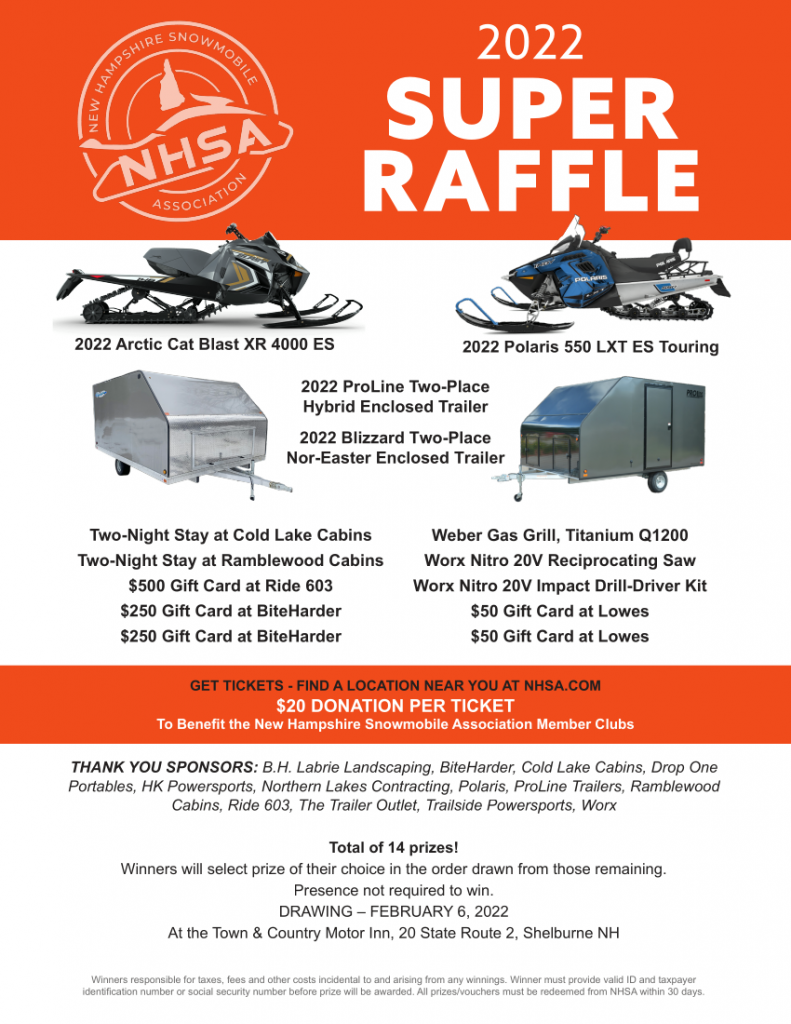 Trail Work
We unfortunately had to cancel last weekend's trail work due to weather. So we he have some catch up and could use any/all volunteers. We still have a bridge to replace, trail clean up, brush cut back and cutting rubber belting for Corridor 11 once it opens for us to work on. We anticipate work every weekend from here on out until the season begins.  Only weekend we won't be working is Thanksgiving weekend. Please reach out by email at ride@cnhsc.org or facebook if you would like to help. We meet at Dirt Designs on 72 Laundromat Rd, Thornton, NH at 8am every Saturday.
Save the Dates:
CNHSC Club Ride: Saturday January 22nd, 2022
Antique Tractor Show: Saturday February 19th, 2022
CNHSC Club Cookout: Saturday March 5th, 2022
** These are subject to change in the event of health and safety with covid. We will continue to monitor and these are the dates we are planning for. If there are any changes we will send out communication on CNHSC.org and Facebook.
Memberships:
Membership forms went out last week. Please be on the look out. If you haven't had an opportunity to review and send in please do so when you get a chance. We rely on membership dues to assist in funding all our projects before the season starts. Thank you to all of Members!
Season is almost here! Can't come quick enough!!
– CNHSC