Hello Everyone,
One of our Members, Shane Johnston, created this survey for his Marketing Research class, it is about what draws in snowmobilers. All of the responses that Shane gets from this survey are anonymous, and will only be used to present to his class. Thank you for taking to time to fill out this survey, the paragraph below is the legal statement we include so that you are aware of what it is used for and so that we can use the information collected.
Participation in this survey is completely voluntary. You are under no obligation to take this survey, and you can opt out of the survey at any time. You may skip any question or questions that you do not want to answer. All surveys are received anonymously and will be treated as such. Data collected from this survey will not be used for any public presentation or publication, and the sole purpose of this survey is to meet the academic requirements of my course BUS 4030 Marketing Research
Please click the link below if you would like to complete the survey.
NHSA Super Raffle Tickets
We still have tickets for purchase. This is a great way to support the club, proceeds go to the club and NHSA. Please reach out to ride@cnhsc.org or our facebook messenger. Tickets are $20 a piece for a chance win some incredible prizes on February 6th, 2022. 2 Sleds and trailers are part of the raffle!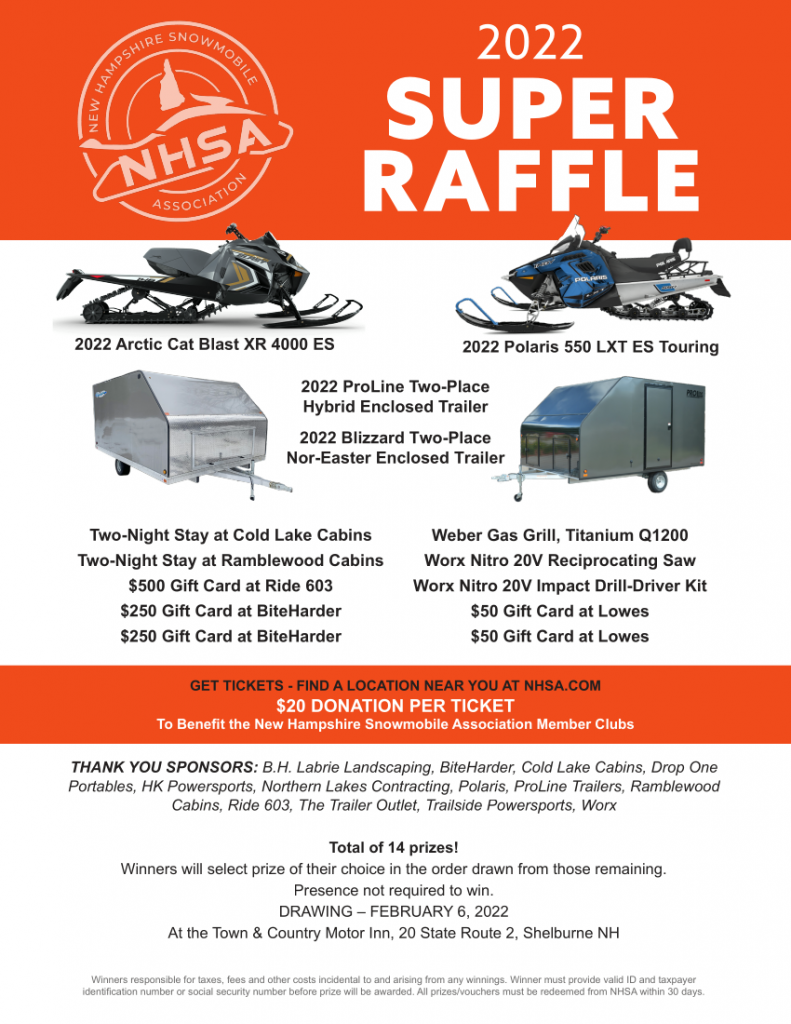 Trail Work:
We had a great turn out for this past weekends trail work party. We focused on downed trees and brush clearing on 155/156. Just a reminder if you would like to join and volunteer, please reach out to ride@cnhsc.org or facebook page. As of right now we are still planning on going out for this Saturday 11/13, weather permitting. Please reach out if you plan to join us. We usually need a headcount to prepare what we can do and focus on.
Here are some pics from this past weekend. Big Thank you to those who come out and put the work in. Takes a lot of time to prepare the trails before the season. We still have a bridge to make and cut/ lay rubber belting to cover the railroad bridges.